User Guide

- How to Use Two-Factor Authentication
Available in: Enterprise
How to Use Two-Factor Authentication
Using Two-Factor Authentication
An additional layer of user and system security is Two-factor authentication. This additional process is to secure your account by way of random generated code and a mobile device. The intent is to reduce the likelihood of your account being hacked into as well as providing an additional layer of defense for your data.
How it works
Login with your username and password
Upon successful login the user will receives an sms message the contents of which contain a random generated 6 digit secure code.
The user enters the secure code, if the code entered is correct and the maximum time frame (5 minutes) has not expired the user will be redirected into the account.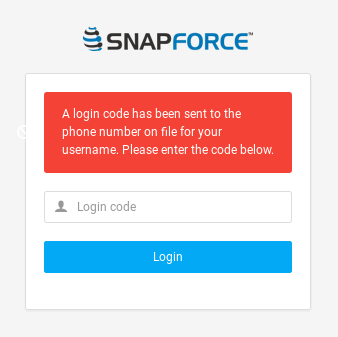 Notes
As a security measure, when enabled two factor authentication is required everytime the user attempts to login, regardless of the browser and/or location.
Two factor authentication is enabled on the user level, allowing the administrator discretion over which users you require to use it.
In order for two factor authentication to be enabled the user must also have a mobile number entered in their user profile.